Purpose
The Yuma Audubon Society is dedicated to conserving natural resources, educating members on conservation issues, and increasing awareness about the diversity of nature in the Yuma, AZ, area. Our constitution is here: YAS Constitution
In the recent past, Yuma Audubon has sponsored Audubon Adventures, the Yuma Birding & Nature Festival, and Audubon Christmas Bird Counts.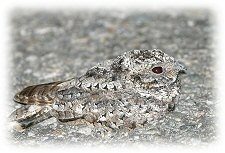 Common Poorwill
Meetings
Meetings are held during the fall, winter, and spring on the second Tuesday of of the month at 3:00 p.m., at the Arizona Game and Fish Office, located at 9140 E. 28th Street (corner of Ave 9E and 28th Street).

2016-2017 Meetings:
Tuesday, Dec 13 at 3:00 p.m. - "Member Showcase"
Bring your favorite bird and nature photos on a thumb drive or CD to share with other members at our holiday meeting.
Tuesday, Jan 10 at 3:00 p.m. - Introduction to Bird Photography and Local Birding Hotspots
Following the presentation we'll hold the election of Audubon officers for 2017-2018.
Tuesday, Feb 14 at 3:00 p.m. - Michele Hernandez: Birds of the High Country
Tuesday, Mar 14 at 3:00 p.m. - Cary Meister: Flora and Fauna of Italy
Tuesday, Apr 11 at 3:00 p.m. - Val Morrill: Data from her Yuma Airport Study on the Impact of Birds on Aviation
Tuesday, May 9 at 6:00 p.m. - Annual beer, pizza, & birds celebration at the Yuma West Wetlands
A typical meeting agenda is:
- Short business meeting
- Conservation news
- Break with refreshments
- Feature presentation





Greater Roadrunner

Field Trips
Yuma is surrounded by many natural features, including the Colorado & Gila Rivers, deserts, mountains, the Imperial Dunes, and the Salton Sea. Join us as we explore these areas in search of diverse birds, reptiles, mammals, and plants.
Field trips are usually held the Saturday following the monthly meeting. We carpool from the Sears parking lot in the "Big Curve" shopping center. Past trips have visited the Salton Sea NWR, Cibola NWR, Cienega de Santa Clara, and Palm Canyon.
2016-2017 Field Trips:
Saturday, Nov 19 Hawk watch to the south of Yuma, where dozens of Ferruginous and Red-tailed Hawks, Peregrine & Prairie Falcons, and Northern Harriers feed on gophers and other rodents. Meet at 7:30a.m. at the Sear parking lot.
Saturday, Dec 17 - Christmas Bird Count in a 15-mile circle centered at Imperial Dam
Saturday, Jan 14 - Explore Imperial NWR in search of waterfowl, raptors, and sparrows
Saturday, Feb 18 - Journey to the Hassayampa River Nature Preserve, close to Wickenburg
Saturday, Mar 18 Close to home, we'll travel to Cocopah RV Park looking for Long-billed Curlew, Hooded Merganser, and other winter residents.
Saturday, Apr 15 Field trip to Mittry Lake to look for spring migrants
Christmas Bird Count

Birdcage Primrose

Close to Christmas we hold our annual Christmas Bird Count (CBC) and Birdathon. We count and monitor the status of birds around Imperial NWR, Laguna Dam, and Mittry Lake. In 2010, we recorded 131 species for count day; most years we find about 120 species. The 2016 CBC will be held on Dec 17th. Please contact Lin Piest at LPiest@azgfd.gov to participate.


To view the results of past bird counts please visit the National Audubon Society CBC website: http://birds.audubon.org/christmas-bird-count

Here are some of our better count-day sightings from the banner 2010 count:
- 4 Barrow's Goldeneyes at Senator Wash, CA
- Red-throated Loon at Ferguson Lake
- Horned Grebe at Senator Wash
- Immature male Surf Scoter at Senator Wash
- Female Black Scoter at Senator Wash
- Varied Thrush at YPG
- American Redstart and Northern Parula at Imperial NWR
- Black & White Warbler at Betty's Kitchen
- Rose-breasted Grosbeak at Hidden Shores RV Park
- Lawrence's Goldfinches in a desert wash west of Senator Wash

Library Presentations
Join us at the Yuma County Main Library for presentations on a variety of bird and evironmental topics.



Membership
Membership can be at the national or chapter level, or both. Fee structures and benefits are as follows:
$10 for local (chapter) members
- Local members receive e-mail birding and meeting alerts, and are welcome to join us for monthly meetings and field trips (Oct-May).

$20 for national members
- National members receive Audubon Magazine and automatically become members of our local chapter. Enroll at www.audubon.org


Black-necked Stilt chick


Links


National Audubon Society www.audubon.org


Imperial NWR http://www.fws.gov/refuge/imperial/


Cibola NWR http://www.fws.gov/refuge/cibola/


Local & National Rare Bird Reports American Birding Association


Southwest Birders www.southwestbirders.com


Yuma County Bird Guide
www.southwestbirders.com/swb_Yuma_County_Book.htm


Salton Sea Bird Guide www.southwestbirders.com/swb_Imperial_County_Book.htm


ASU - AZ bird songs http://askabiologist.asu.edu/expstuff/experiments/birdsongs/