Purpose
The Yuma Audubon Society is dedicated to conserving natural resources, educating members on conservation issues, and increasing awareness about the diversity of nature in the Yuma, AZ, area. Our constitution is here: YAS Constitution
In the recent past, Yuma Audubon has sponsored Audubon Adventures, the Yuma Birding & Nature Festival, and Audubon Christmas Bird Counts.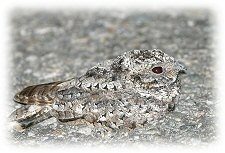 Common Poorwill
Meetings
Meetings are held during the fall, winter, and spring on the second Tuesday of of the month at 3:00 p.m., at the Arizona Game and Fish Office, located at 9140 E. 28th Street (corner of Ave 9E and 28th Street).

2017-2018 Meetings:
Tuesday, Nov 14 at 3:00 p.m. - "Plants and Birds" presented by Nancy Meister

Tuesday, Dec 12 at 3:00 p.m. - "Member Showcase"
Bring your favorite bird and nature photos on a thumb drive or CD to share with other members at our holiday meeting.
Tuesday, Jan 9 at 3:00 p.m. - A Yuma County Big Year - a presentation about my 2017 big year.

Tuesday, Feb 13 at 3:00 p.m. - Birding in Costa Rica by Mark Larsen, President of Maricopa Audubon
Tuesday, Mar 13 at 3:00 p.m. - Adventures on the Pacific Coast Trail by Petra Orta
Tuesday, Apr 10 at 3:00 p.m. - Flowers of the Grand Paradiso National Park in Italy by Cary Meister
Tuesday, May 8 at 6:00 p.m. - Annual Audubon and Native Plant Society Potluck at the Yuma West Wetlands, Ramada 32
A typical meeting agenda is:
- Short business meeting
- Conservation news
- Break with refreshments
- Feature presentation





Greater Roadrunner

Field Trips
Yuma is surrounded by many natural features, including the Colorado & Gila Rivers, deserts, mountains, the Imperial Dunes, and the Salton Sea. Join us as we explore these areas in search of diverse birds, reptiles, mammals, and plants.
Field trips are usually held the Saturday following the monthly meeting. We carpool from the Sears parking lot in the "Big Curve" shopping center. Past trips have visited the Salton Sea NWR, Cibola NWR, Cienega de Santa Clara, and Palm Canyon.
On Wednesday mornings at 7:30 a.m. (October, March, and April) and 8:00 a.m. (November-February) meet at the Yuma East Wetlands for our weekly bird walks. Everybody welcome!
2017-2018 Field Trips:
Saturday, Nov 18 - Hawk watch to the south of Yuma, where dozens of Ferruginous Hawks, Peregrine & Prairie Falcons, and Northern Harriers feed on gophers and other rodents. Meet at 7:30a.m. at the Sears parking lot.
Saturday, Dec 16 - Christmas Bird Count in a 15-mile-diameter circle centered at Imperial Dam. Please contact Lin Piest at 928-342-0091 to pick a location and sign up.
Saturday, Jan 13 - Explore Betty's Kitchen and Mittry Lake in search of waterfowl, raptors, sparrows, and other fine birds.
Saturday, Feb 17 - Aztec Feedlot and Dateland for wintering rarities, along with the expected raptors, warblers, and sparrows
Saturday, Mar 17 Tinajas Altas, winter denizens and early spring migrants
Saturday, Apr 14 Look for migrating waterfowl and shorebirds at the Solar and Water Power Pond, and for warblers in the Wellton area